EXPERIENCE THE ROLAIR® K-SERIES
K-Series air compressor pumps have been a defining factor in the success of our belt drive models since the mid '80s. Designed and built near Torino, Italy, these pumps are fine-tuned to be durable, lightweight and to meet or exceed the output of comparable models. The attention to detail is unmatched. As a result, these pumps have earned a reputation as a favorite among contractors and have been sought after by OEMs in numerous industries. Outlined below are a few of the details that help the K-Series stand out:
Oversized Crankcase
Each K-Series pump features an oversized crankcase which helps reduce operating temperature and minimize the risk of low oil conditions. Every ROLAIR® air compressor built with a K-Series pump comes pre-filled with our signature synthetic blend compressor oil for easier starts and better performance.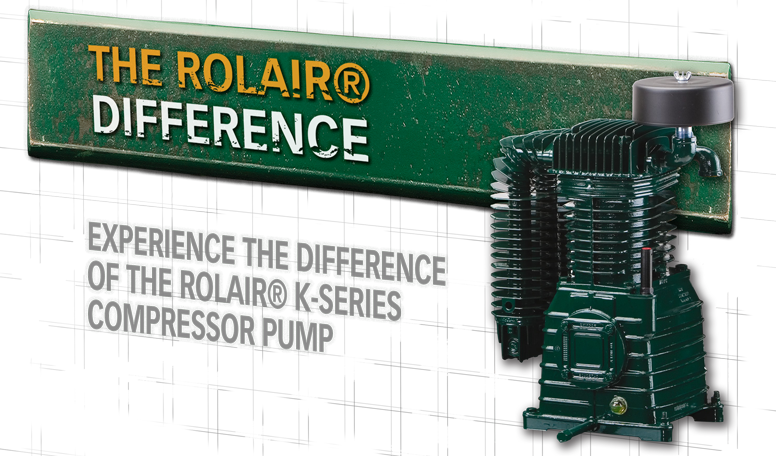 Automotive-style Air Filter and Bearing Inserts
Automotive-style air filters allow for maximum air intake, while preventing particulates from entering the head of the pump. Replaceable bearing inserts reduce wear on the crankshaft journal and make repairs easy and affordable.
Steel and Carbon Fiber Gaskets
With the K-Series, blown gaskets are a thing of the past. Steel head and valve plate gaskets, along with a carbon fiber upper cylinder gasket, ensure an air tight seal under the most extreme conditions.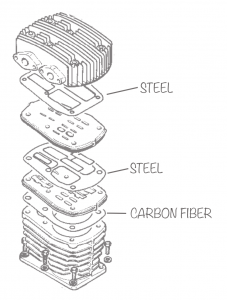 Cast-Aluminum Head and Crankcase
Lightweight cast-aluminum components provide superior heat dissipation, extending valve life and increasing pump efficiency.
Cast-Iron Cylinder and Steel Valve Plates
Precision-honed cast-iron cylinders promote long service life and control oil consumption. Steel machined valve plates coupled with lamellar reed valves provide extended life and easy maintenance.
EXPERIENCE THE DIFFERENCE
Unmatched quality and attention to detail separate the K-Series from other air compressor pumps on the market. Experience the difference year after year and job after job. If you're a contractor looking for your next air compressor, find your nearest ROLAIR® dealer here. If you're an engineer in need of an air compressor pump for your next product innovation, get in touch with our OEM department today.